Cataract Surgery Candidacy
Dr. Sonny Goel can assess your cataract surgery candidacy at his Annapolis, MD-area office, explain the types of cataract surgery available, and help you choose a course of treatment. Candidacy depends largely on the stage of development your cataracts have reached. Dry eye syndrome, being pregnant or breastfeeding, taking certain medications, and having experienced a change in glasses prescription in the last year can temporarily preclude you from undergoing cataract surgery. Dr. Goel will conduct a careful analysis before recommending surgery.
When Should I Have Cataract Surgery?
In the very earliest stages of development, most sufferers may not realize they have cataracts unless they undergo regular eye screenings. The onset of cataracts can be quite gradual, so for many years, patients may find that simple, non-invasive measures such as staying current on their glasses or cataract prescription, or using bright lighting when reading and performing other tasks at night may help them to maintain adequate focus. However, cataracts will eventually reach a stage at which they obscure vision to a degree that prohibits the sufferer from being able to drive, read, or perform other essential daily tasks.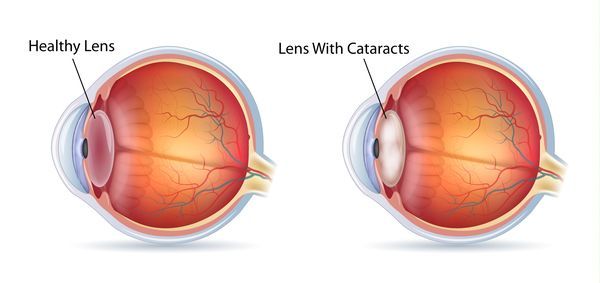 Surgery is usually recommended when cataracts reach later, more advanced stages.
Cataract Surgery for Presbyopic Patients
Presbyopia, or age-related farsightedness, can begin developing around age 40. It develops as the crystalline lens begins losing flexibility, compromising the ability to achieve close focus. If you have been diagnosed with presbyopia and cataracts, and wish to eliminate or reduce your need for reading glasses, it may be recommended that you undergo cataract surgery in the early or intermediate stages of cataract development, and receive an accommodative intraocular lens (IOL) designed to flex similarly to a healthy crystalline lens.
Which Type of IOL Is Right for Me?
Patients must choose the type of IOL they wish to receive during surgery, which will depend primarily on their goals. For example, if you do not mind wearing glasses for some tasks, such as reading or achieving distant focus, you are probably a candidate for a monofocal IOL. These IOLs provide focus at one distance, and the cost is typically covered by insurance.

​​​​​​​There are also premium IOL options that can allow patients to minimize their need for glasses following cataract surgery. These options are not covered by insurance, so candidates must be willing to pay at least a portion of the cost out of pocket. We are happy to work with patients to determine payment plans that make these premium options affordable. Multifocal lenses provide focus at close, intermediate, and far distances. They function similarly to bifocal glasses lenses, but instead of providing two focus powers, they provide many. Candidates must understand that while these IOLs will not restore the same quality of vision they enjoyed during their 20s, they can provide significant freedom from prescription eyewear.

Meanwhile, there are also toric lenses designed specifically to help those with astigmatism, or compromised focus ability resulting from an asymmetrical corneal shape. During your consultation, Dr. Goel will carefully analyze your eyes and take note of your goals to determine which IOL is the best choice for you.
Schedule an Appointment
If you are suffering with cataracts, Dr. Goel is prepared to help you determine if and when you should undergo surgery. Contact us today to schedule a consultation.