Vision Correction You Can Afford
Lasik Cost Baltimore, Maryland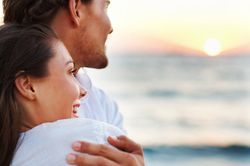 Do you wish you didn't have to depend on glasses or contacts? Have you considered LASIK, but worry that you cannot afford the procedure? Dr. Sonny Goel can help you understand LASIK cost, and his Baltimore practice offers financing options to help put this treatment within your budget. Contact us today to learn more about how we can help you reduce or eliminate your dependency on corrective eye wear.
How Much Does LASIK Cost?
Although Dr. Goel offers several forms of LASIK, including IntraLase and Custom Wavefront LASIK, there is still just one cost for all of these treatments. Knowing this, you can rest assured that when Dr. Goel recommends a specific form of LASIK surgery, he truly believes that this procedure is in your best interest, and there is no financial benefit to him in recommending one type over another. You may be surprised to learn that LASIK is now covered by many vision plans. We also offer a 15% discount for patients who go through certain providers, such as EyeMed, Davis Vision, Spectare, Cole Vision, and Lifetime Fitness. You can even ask about our discount for patients who are not in the network. Call Dr. Goel's office today to see if your insurance plan participates in our discount program.
Financing Options
Even if you do not have vision insurance, don't despair! LASIK surgery can still be made easy and affordable with a variety of financing options. While you may certainly charge your procedure to your credit card, you may hesitate to do so. Medical credit providers such as CareCredit™ allow you to take out a credit card that is solely for health and cosmetic procedures. These cards work just like regular credit cards, and you will pay for your LASIK surgery in fixed monthly installments. You can choose a 6-, 12-, or 18-month repayment period to ensure that your payments fit nicely into your budget. Care Credit also offers several special financing agreements, including a no-interest guarantee if your qualifying procedure is paid for in full within a specific amount of time.

For your convenience, Dr. Goel is proud to offer in-house patient financing with direct debit. This means that you can pay us directly for your procedure in monthly payments with a fixed amount of interest. Dr. Goel wants to help you experience enhanced vision, and he will work with you to find a payment schedule that truly fits within your budget.
Contact Us Today
If you have been considering LASIK for a while, it's time to make it happen. With a reasonable cost and multiple payment options available, the procedure is more affordable than ever before. Contact us today to find out if you are a LASIK candidate, and how we can help put the treatment you need within your budget. Dr. Goel will take ample time to answer all of your questions. Don't wait any longer to begin seeing the world around you with clear, dependable vision.