The Original Laser Eye Surgery
PRK Baltimore, Maryland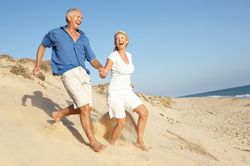 If you have ever been told that you are not a good candidate for LASIK, this does not mean that laser eye surgery is out of the question. Dr. Sonny Goel offers safe, effective PRK treatment at his Baltimore practice, giving you the chance to reduce or eliminate your need for contact lenses and glasses. PRK, or photorefractive keratectomy, is the predecessor to LASIK, and shares many similarities. To learn more about PRK, please contact our office today.
What Is PRK?
Most problems with nearsightedness, farsightedness, and astigmatism occur because your eye cannot properly refract light and focus it on the retina, which helps transmit images to the brain. PRK is a corrective procedure that uses a laser to reshape your cornea, allowing it to properly focus light.
During LASIK, a flap is created in the surface of the cornea, and the inner layers of the cornea are reshaped. During PRK surgery, Dr. Goel actually removes the outer layer of corneal cells using a gentle buffing brush, and the exposed layers are reshaped. He will then place a soft contact lens on your eye that acts as a bandage during the healing process. Because the cornea is so resilient, it typically heals in about five days.
Recovery and Side Effects
PRK involves a more lengthy recovery than LASIK. You may not notice a difference in your vision for up to two weeks, and your vision may not completely normalize for three to six months. Once your eyes have finished healing, however, your vision will be much sharper and clearer, even without the use of glasses or contacts. During your recovery time, it is imperative that you follow your doctor's instructions, which may include taking antibiotics, getting plenty of rest, and avoiding certain physical activities. The side effects and complications of PRK are rare, and much the same as the risks of LASIK. They can include infections, or the development of halos and glare in low-light conditions. The surest way to minimize these risks is to choose a reputable surgeon.
Why Choose PRK?
Photorefractive keratectomy can be an excellent option for patients who have:
Thin or irregular corneas

Large pupils

Past eye issues such as radial tears, glaucoma, radial keratotomy, and some types of corneal dystrophy
Some patients who are not affected by the above conditions still prefer PRK, as it poses no risk of corneal flap complications.
PRK vs. LASEK
The terms "PRK" and "LASEK" are sometimes used interchangeably, but they are actually different procedures. LASEK is a variation of PRK, which uses a mild alcoholic solution to weaken the cells of the surface of the cornea. An ophthalmologist will then push these cells to the side and reshape the cornea with the laser. Once reshaping is complete, he will push the corneal surface back into place. When LASEK was first developed, it was very popular. However, Dr. Goel had reservations, and ultimately determined that the procedure was potentially harmful, and the long-term effects were unsatisfactory. For these reasons, Dr. Goel does not offer LASEK, and instead provides his patients with the safe and proven PRK procedure.
Contact Us Today
For more information about PRK, contact us today. Dr. Goel will perform an initial consultation and help you determine if you are a good candidate for the procedure.