Multifocal IOLs
Baltimore, Maryland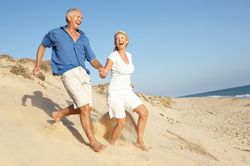 Until fairly recently, patients who had cataract surgery had the natural lens of their eye replaced with an artificial alternative that provided clear vision at just one distance. This is known as a monofocal lens and enables patients to see well for driving, watching television and other tasks that involve distance vision. However, in order for patients to be able to see clearly up close, such as for reading or using a computer, it would be necessary for them to wear bifocal or reading glasses. This is because patients who have undergone cataract surgery usually go on to develop presbyopia – the natural loss of vision as they get older.

Presbyopia is something that eventually affects all of us as our eyes degenerate with advancing age. It is for this reason that reading glasses are so common amongst the older generation. When you have the lens of your eye replaced with a multifocal IOL during cataract surgery, you can avoid the need for additional glasses to tackle your presbyopia.


What are multifocal IOLs?
Intra-Ocular Lenses are artificial lenses that are used to replace the natural lens of the eye when it is removed during cataract surgery. There are different types of IOL available, with multifocal IOLs being one of the more popular types of artificial lens chosen by patients in the United States.
Multifocal lenses are very similar to bifocal and multifocal contact lenses in that they can correct a patient's vision at various distances including close up, far away and all of the distances in between. This makes them extremely beneficial and means that patients will not be reliant upon additional glasses or contact lenses to see clearly.
We understand the importance of optimal vision correction and want to ensure that our patients can benefit from superior vision after their cataract surgery without the need for prescription eyewear. As such, we are delighted to be able to offer state-of-the-art multifocal IOLs. Currently, there are two top-quality multifocal IOLs approved for use in the United States and we can offer our patients a choice between these. These are as follows:

AcrySof IQ ReSTOR multifocal IOLs
AcrySof multifocal lenses, marketed by Alcon, have been approved for use in the United States since 2005. These remarkably effective IOLs have a patented 'apodized diffractive' design that optimizes image quality in all lighting conditions, ensuring that your vision is optimal in all scenarios. They are also renowned for reducing halos of light and enhancing visual clarity at night, making them an ideal choice for patients who spend a lot of time in low light situations.

Tecnis multifocal lenses
In use in the United States since 2009. Technic multifocal IOLs have a fully diffractive surface enabling patients to benefit from advanced image quality at all distances and under any lighting conditions. Studies have shown that almost 9 in 10 patients with Tecnis multifocal lenses are able to enjoy clear vision without the need for glasses.
Our experienced and renowned ophthalmologist, Dr. Sonny Goel, will be delighted to discuss both options with you and help you determine which is most suited to your needs. If you would like to learn more about multifocal IOLs or if you would like to discuss your candidacy for cataract surgery, please contact us today to schedule your appointment.