Advanced Intraocular Lenses
Multifocal IOL Baltimore, Maryland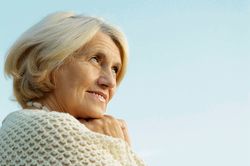 Dr. Sonny Goel proudly offers the multifocal IOL at his Baltimore clinic, giving patients clear, accurate vision at a wide range of distances. These synthetic lenses can be surgically placed within the eye to enhance vision and improve quality of life. To learn more, please contact us today.
What Are Intraocular Lenses?
Intraocular lenses, or IOLs, are synthetic corrective lenses that replace the crystalline lens within the eye. They are surgically implanted during a safe, minimally-invasive procedure. IOLs are frequently used in cataract surgery, replacing natural lenses that have become clouded.
An Introduction to Multifocal IOLs
Multifocal IOLs are designed with a succession of focal zones, and each zone focuses light in a slightly different manner. This innovative design allows your eye muscles to move the IOL as it would your natural lens, giving you the ability to focus at varying distances. Multifocal IOLs have revolutionized cataract surgery, since previous cataract patients remained reliant on thick glasses or very powerful contacts following their procedure. Multifocal IOLs are often a great benefit to patients with astigmatism. Dr. Goel proudly offers the innovative Acrysof Restor multifocal IOL, and for patients with astigmatism, he provides the Acrysof Toric IQ lenses.
Why Choose Multifocal IOLs?
Multifocal IOLs are a great choice for those who do not wish to rely on corrective eye wear following their surgery. While patients who choose multifocal lenses sometimes need glasses or contacts, the vast majority of patients find that after their procedure, they depend on them much less. Patients who regularly play golf or tennis, read, use the computer frequently, or spend much of their time driving, usually find that multifocal IOLs are the best choice. And since standard monofocal IOLs can only provide a clear lens, patients with astigmatism or presbyopia are excellent candidates for multifocal lenses. When you receive intraocular lenses from Dr. Sonny Goel, you will not only benefit from advanced medical technology, you will also benefit from his true concern for his patients. Dr. Goel offers touch-ups to patients who choose these premium lenses, and will make any minor adjustments needed to ensure the best possible quality of vision. In addition, he firmly believes that all patients should be well-informed about their procedure, and he will take as much time as you need to answer all your questions and to help you decide if multifocal IOLs are right for you.
Contact Us Today to Learn More
If you would like to know more about multifocal or standard intraocular lenses, contact our office today. He will give you a thorough examination and help you decide if you are a good candidate for IOLs. Dr. Goel can help you choose between standard and premium multifocal IOLs. Thanks to his complete dedication to his patients, you can rest assured that Dr. Goel will provide you with unbiased advice that will truly benefit you for years to come.